Throughout the course of history, there have been thousands of actors and actresses who have made their mark not only in Hollywood but also on the rest of the world, through charitable donations that aim to give back and help others. After her mother, brother and nephew were murdered in a domestic violence incident, singer and actress Jennifer Hudson decided to start her own charity to provide funding and support for children all across the nation – in the hope that nobody else would feel as alone as she did during that time. Yet, Jennifer isn't alone. Leonardo DiCaprio has also used his fame and fortune to help the world around him. As a self-confessed climate activist, Leonardo has created his own non-profit organization, attended environmental conferences, and even wrote and produced his own movie about global warming. Backing these kinds of movements isn't cheap, but many of these actors and actresses are happy to part with it to care about the welfare of our planet and society. However, there are some people who go unnoticed, even while they secretly give millions of dollars… including Keanu Reeves.
---
---
Born on September 2, 1964, in Beirut, Lebanon, Keanu Reeves was brought up in a relatively unstable world. For most of his early life, he traveled from Beirut to Hawaii, to Sydney, to New York City, and then to Toronto, after his father was imprisoned and his mother remarried several times. Eventually, the Reeves family settled in Canada, where Keanu was raised by his sisters and grandparents, and where he tried to fit in at school. However, Keanu was not an academic type and was eventually expelled from many of his schools, including the Etobicoke School of the Arts. Despite his lack of focus and attention on academic subjects, Keanu was a man on a mission when it came to sports, and the teenager had impressive dreams of becoming a professional ice hockey player. Unfortunately, an injury squashed this dream – so he focused his attention of being a professional actor, instead.
Since then, Keanu Reeves has managed to build one of the most impressive acting résumé of all-time. Although he had been acting on-and-off since he was just nine years old, Keanu truly rose to fame after his role in the Bill and Ted movie franchise, before attaching his name to the likes of John Wick, Speed, Point Break, Bram Stoker's Dracula, and of course, The Matrix. Because of this, it's no secret that Keanu Reeves has a fairly large fortune underneath him, but he has been secretly giving away millions of dollars without us knowing… until now. Here's how and why he's doing it.
A hefty fortune
As one of the most famous faces within the world of Hollywood, it should come as no surprise that Keanu Reeves has a hefty fortune under his belt. In fact, his net worth comes in at a whopping $350 million! Yet, this number is nowhere near what it could have been. Over the course of his career, Keanu Reeves has spent millions of dollars of his hard-earned money on other people, without the world realizing. From charity work to movie productions, this is how Keanu Reeves has secretly given away millions of dollars in the past few years.
The Matrix
Although he has appeared in major movies since his debut into the world of Hollywood, many people know and love Keanu Reeves for his role in The Matrix – and it's easy to believe that Reeves would have been awarded an impressive sum for his character. However, Keanu gave much of it back. After being given $10 million upfront for his role, Keanu was also offered part of the box-office profits. Yet, he gave this portion up and funneled it back into the Matrix franchise to allow for a sequel, and ensuring it had equally as stunning special effects as the original.
Giving Back
In fact, it's been reported that Keanu Reeves donated around $75 million to hundreds of crew members who worked on the first Matrix movie, as well as the production company, special effects teams, and costume designers. He believed it to be unfair that he was paid so much, while those who put in just as much time and effort were paid less. So he donated a huge portion of his money, which allowed for The Matrix movie franchise to continue.
Taking a pay cut
Yet, this isn't the first time Keanu Reeves has taken a pay cut to help others. In 1997, Keanu was offered the chance to star in an upcoming movie entitled The Devil's Advocate. The casting directors were so keen to get the actor on board; they originally sacrificed hiring Al Pacino to star alongside him, as they could not afford both of them for the one movie. Nevertheless, Keanu knew that Pacino would be a great asset to the movie, and he was keen to work alongside the acting legend. So, he offered to take a drastic pay cut.
Reeves and Hackman
Amazingly, Keanu Reeves still gets starstruck when he meets his acting heroes, and does anything he possibly can to work alongside them and learn from their talent. In 2000, Keanu once again agreed to take a pay cut so the directors and producers could cast Gene Hackman in the movie The Replacements. Keanu was more than happy to do so, as he later noted to the New York Post that he was looking forward to the "really great acting experience" alongside his hero.
The next few centuries
To many people, the idea of giving away a salary is totally absurd, but to Keanu Reeves, it's not something he really thinks about. For the most part, this Hollywood legend lives a simple life, and does not use his millions to buy luxury homes or cars, or go on lavish holidays. During an interview with Hello Magazine, Keanu actually reported that "money is the last thing I think about" and that he would have no problems living on the money he'd already made for the rest of his life.
A humanitarian
Although he lives in the private eye, Keanu Reeves' private life remains relatively hidden. Yet, we do know that Keanu went through a rough patch during the '90s, after his sister was diagnosed with leukemia. Since then, this acting legend has used his power, fame, and money to work as a humanitarian and help major charities that aim to cure cancer and help those suffering from the terrible disease. He is also the founder of a private cancer research foundation but does not associate his name with it, to prevent the press from hounding the groundbreaking work they do.
Manning the phones
However, that isn't all Keanu Reeves does to support those who have lived or will live with cancer throughout their lives. In 2008, Keanu and various other celebrities helped man the phones and took donations from willing fans and patrons during a Stand Up To Cancer telethon. This event was established to encourage fans to think about the effects of the disease and help those who suffer with it, raising awareness for the cause with a little help from their favorite celebrities.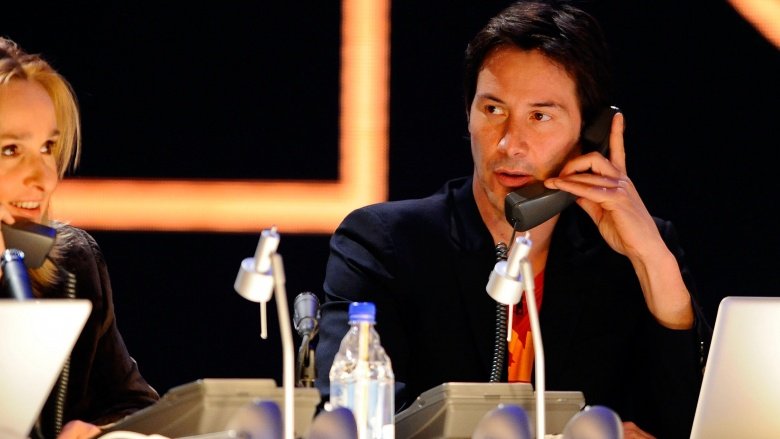 What a SCORE
As a former ice hockey player, there was once a time where Keanu Reeves could have turned pro. Although an injury stunted this dream, Keanu has since worked closely with many charities and institutions that help those who have been injured during their professional hockey career, including SCORE (Spinal Cord Opportunities for Rehabilitation Endowment). It's believed that Keanu not only donates large portions of his fortune to the charity but also regularly meets those suffering from spinal cord injuries.
Unique living quarters
With a hefty net worth of $350 million, Keanu Reeves has more than enough money to buy himself a huge mansion, flash cars, luxury furniture and more. However, none of this has ever appealed to the actor. Since his first foray into the world of professional acting and stardom, Keanu has preferred to live in hotels. In fact, for many years he lived in the Chateau Marmont, before finally buying himself a house in the Hollywood Hills in the early '00s.
Momma's boy
Despite his own thoughts on real estate, Keanu Reeves has often used his hefty wealth to help out those who raised him – most notably, his mother. Because they moved around so much when he was younger, Keanu was keen to buy his mom a more permanent base near to him in Los Angeles. So, that's exactly what he did! It's believed that Keanu bought a large property for his mother, pays all of her bills, and indulges her every need to say thank you for the opportunities she gave him when he was younger.
All revved up
For the most part, Keanu Reeves is the star of the show. He scores leading roles, he wins the awards, and he is the poster boy for the epic movies he stars in. Yet, Keanu felt the success of a movie relies on a whole team of people who work on set, behind the scenes, and in the studio. For this reason, Keanu decided to get all revved up and buy all of the stunt doubles who worked on The Matrix their very own Harley-Davidson.
All worth it
Although these motorcycles came with a huge price tag, it was all worth it in the end, as Keanu wanted to thank those who did not get the credit they deserved. In fact, the stunt doubles who worked on The Matrix worked closely with Keanu during filming, and were there at all hours of the night, filming scenes that would later become some legendary. These scenes were choreographed by some of the best in the business, and Keanu believed they needed to be rewarded for their hard work.
Hot under the collar
Much of Keanu Reeves' wealth has gone on charitable organizations, those who need help, those who have helped him, and other actors and actresses. However, Keanu has also unwillingly given away his money. In the past, Keanu got hot under the collar when he was sued by a woman who claimed he used a disguise and hypnosis to get her pregnant. The woman was claiming $3 million in damages, as well as $150,000 a month for child support – even though it was later discovered that the child wasn't his.
What a rumor
However, this isn't the only defamatory story that has made the rounds in the Hollywood rumor mill. Although he has kept his romantic life relatively private, this hasn't stopped the press from reporting that the actor allegedly secretly tied the knot with the billionaire businessman, David Geffen, and ultimately inherited a huge fortune. Keanu has since denied these claims and has shrugged the whole story off as a weird and wonderful work of fiction, telling Empire Magazine that the rumor "exists in another universe."
A clear pass
Alongside his charitable donations, Keanu Reeves passed up on millions of dollars by rejecting numerous movie roles. One of his most notorious rejections came after he was offered the chance to star in the Speed sequel, Speed 2. Fans of the first movie were astounded to see that the lead had turned down the chance to expand the franchise, and add a few million to his coffer. However, Keanu did not like the script and did not want to associate himself with it for the extra zeros in his bank account.
He's not bothered
In fact, Keanu Reeves isn't really bothered about the money he has in general. Although he is one of the most famous men in Hollywood, Keanu has still managed to maintain an air of normalcy. Many believe this is because he hasn't been silly or become overwhelmed by the amount of money he earns. In his words, he doesn't "connect the enjoyment and the money" and sees money as something he can use to help those who truly need it. All he wants to do is make epic movies and continue doing what he loves.
Arch Motorcycles
Yet, when he's not acting, Keanu Reeves does like to use his money for a passion of his. As a self-proclaimed motor enthusiast, Keanu often takes himself down to the race track to whizz around in a high-powered car or motorcycle. Because of this, Keanu used his hefty bank balance to form his own motorcycle company, Arch Motorcycles. The company primarily creates bespoke, hand-crafted motorcycles for their customers, but they also give back in an impressive way…
Dreams do come true
As the CEO and founder of the motorcycle company, Keanu Reeves has made it his mission to use the company to help others. In recent years, the company has taken the plunge and sponsored a new rider on the professional circuit. At just 13 years old, Damian Jigalov was spotted by the actor during a race, and Keanu knew they had to help the rider achieve his dream of professional stardom. The company and the rider now have an epic partnership that is leading him towards that goal.
Helping the homeless
Despite his wealth and his stature in the world of Hollywood, Keanu Reeves maintains his compassionate nature – and does not forget where he came from. Over the course of his career, Keanu has often been spotted spending time with those who live on the streets and providing a friend to those in need. He will often spend hours on end sitting down and talking with the homeless, and will often gift them with food, drink and even shelter. All in all, there's no doubt that Keanu gives of his time, money, and compassion for the benefit of the world.